The crane-vacc dust extraction system - platform
Concept
With the broader availability of 3D printer or 3D printing services the self-service for fulfilment of special needs is a opportunity.
The crane-vacc can serve as a perfect base for all kinds of special dust-extraction use-cases.
3D model
To support self-service the critical part of the 3D design, the transfrom from the tube to a convenient rectangular form is prepared by Lambdasign. Feel free to design your own special dust-extraction head based on the provided model.
The sample model is done as a 2 part model where the head is separated from the adapter for easier printability.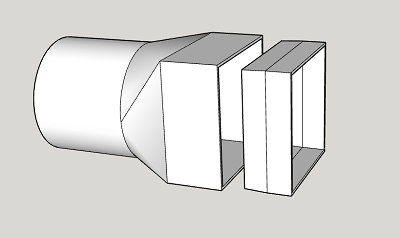 A 3D-model as Sketchup file and .stl is in the Downloads-section.
Any presentation and tagging with @lambdasign and #cranevacc will be appreciated.