The Lambda Dock for Micro USB (Android and WindowsPhone)
Smartphones come and go. The Lambda is designed to stay
Function, Design and Material. The Lambda-dock can be used for nearly all Androids and Windows Phones with or without protective case.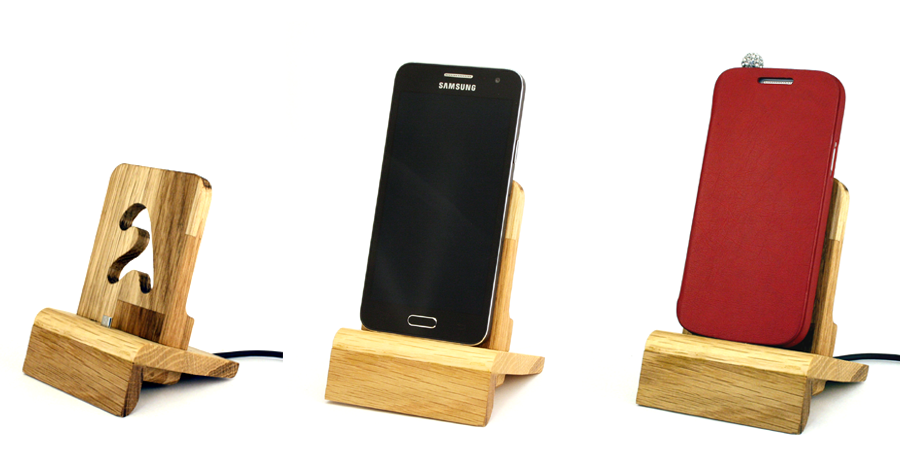 Through the unique mechanic it is possible to adapt the position of the rear-wall and plug depth to the particular model and the used protective skin. This universal design allows the usage of natural and premium materials. It creates an appealing contrast to the increasing speed of smartphone-generations.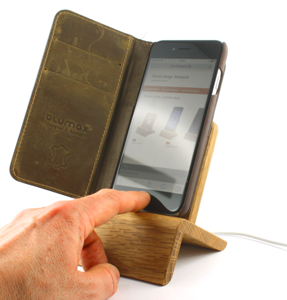 The design combines the clear design-language in the tradition of the Bauhaus-design and classic scandinavian elements.
Firmed up by the fixed rear-wall all touch-actions can by done when docked. The inclination enables convenient view on the screen and even videochat.
Compatibility
The lambda is compatible with, amongst others, the smartphone models:
LG (for example, L90, SG, G)
Moto G, Moto X
Samsung (S2, S3, S3 Mini, S4, S4 Mini, S5, S5 mini, A3, sheet Edge, Note 4)
Wilko Lenny
Huawei Honor Huawei Ascend
Asus Zenfone
Lumia 43x, 53x, 63x
OnePlus One
HTC M8
The constantly increasing Gallery of user-photos illustrates the versatility of the Lambda dock.
The smartphone models Lumia 830, Sony Xperia, some HTC and BlackBerry S10 smartphones are not compatible with the lambda. Precondition for the compatibility is that the connector of the smartphone is positioned at the bottom center and the plug in cross section * 8mm is not greater than 10mm. It was tested with the supplied charging cables as well as standard Micro-USB cables from the Trust, Aukey and CSL. The recommendation is the usage OF the Aukey cable.
Check out the product-video (https://youtu.be/aUFio_dxqDY)
Specification
The Lambda dock is made of massive oak-wood and is finished with tung-oil. Each dock is unique and can vary in pattern and grain.
Dimensions:
Width: 8,0 cm (3.15 inch)
Height: ca 10,5 cm (4.13 inch)
Depth: 8,6 cm (3.39 inch)